Roky Erickson
"I Have Always Been
Here Before"
(2-cd anthology on Shout! Factory)
www.shoutfactory.com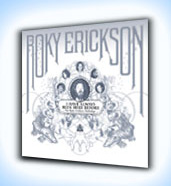 Plus: "Gremlins Have Pictures"
and "Don't Slander Me" reissues
(Rykodisc)
www.rykodisc.com
In the first half of the year, there has been plenty of Roky Erickson activity, including the recent licensing by longtime client, Orb Productions of classic albums, "Gremlins Have Pictures" and "Don't Slander Me", reissued with bonus tracks and improved liner notes by Rykodisc, one of the best labels in the world at providing such reissued gems. Both albums will be remastered , with bonus tracks, and improved liner notes and artwork.
Don't Slander Me contains everything that makes Roky the amazingly unique musician he is. From the fiery title track to the last song, this album kicks ass. Roky expresses his tender side on rock ballads such as Nothing In Return and Starry Eyes, but the high point of the album is without a doubt Burn The Flames (from the Return Of The Living Dead soundtrack), a venture into horror as only Roky could tell it. Features Jack Casady on bass.
Gremlins Have Pictures contains a collection of alternate takes, unreleased live performances, and unreleased songs makes Gremlins Have Pictures a must for any die hard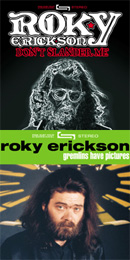 fan, and a great album for everyone else. Erickson's rendition of Lou Reed's "Heroin" brings explosive life to the song, and is regarded as "better than the original" by many fans.
Orb also licensed 22 masters to be included on the upcoming Roky Erickson/13th Floor Elevators 2-cd anthology being assembled by Shout Factory, the company run by the nice folks who formerly ran Rhino Records. This Sony-distributed package, more than a dozen years in the making, is quite simply the greatest overview of Roky's career ever to be released. The complete track listing is set forth below.
Roky Erickson is one of the most influential cult artists of all time. His work with the '60s Texas group The 13th Floor Elevators bridged garage rock and psychedelia, and cast a long shadow over the punk and post-punk movements. After a 1969 drug bust, the already mentally fragile Roky chose a stay in a mental institution instead of doing jail time, but was subjected to electroshock therapy and emerged in a highly unstable condition. He continued to write brilliant, chilling songs throughout the '70s and '80s, and the cult around him grew. In 1990 he was honored with an acclaimed tribute album, Where the Pyramid Meets the Eye, featuring R.E.M., ZZ Top, and Primal Scream. This led to a revival of his fortunes, which included new releases made in conjunction with Charlie Sexton and Gibby Haynes of the Butthole Surfers.
The 2-CD set, "I Have Always Been Here Before: The Roky Erickson Anthology" is the only release to cover his entire 40-year career, making it the definitive Roky Erickson collection.
Official Roky site: www.erickson.com
Track Listing

Disc 1:

1. We Sell Soul - The Spades
2. You're Gonna Miss Me - 13th Floor Elevators
3. Reverberation (Doubt) - 13th Floor Elevators
4. Tried To Hide - 13th Floor Elevators
5. Fire Engine - 13th Floor Elevators
6. She Lives (In A Time Of Her Own) - 13th Floor Elevators Start Start
7. Slip Inside This House - 13th Floor Elevators
8. Splash 1 - 13th Floor Elevators
9. Dust - 13th Floor Elevators
10. I Had To Tell You - 13th Floor Elevators
11. Postures (Leave Your Body Behind) - 13th Floor Elevators
12. Right Track Now - Roky Erickson & Clementine Hall
13. Red Temple Prayer (Two Headed Dog) - Roky Erickson & Bleib Alien Start Start
14. Starry Eyes - Roky Erickson & Bleib Alien
15. Bermuda - Roky Erickson Start Start
16. The Interpreter - Roky Erickson & The Aliens
17. Mine Mine Mind - Roky Erickson & The Aliens
18. I Have Always Been Here Before - Roky Erickson
19. Click Your Fingers Applauding The Play
- Roky Erickson & The Aliens
20. I Think Up Demons - Roky Erickson & The Aliens
21. Don't Shake Me Lucifer - Roky Erickson & The Aliens
22. White Faces - Roky Erickson & The Aliens
Disc 2:
1. It's A Cold Night For Alligators
- Roky Erickson & The Aliens
2. Creature With The Atom Brain
- Roky Erickson & The Aliens Start Start
3. Stand For The Fire Demon
- Roky Erickson & The Aliens
4. Bloody Hammer - Roky Erickson & The Aliens
5. The Wind And More - Roky Erickson & The Aliens
6. If You Have Ghosts
- Roky Erickson & The Aliens Start Start
7. Song To Abe Lincoln - Roky Erickson & The Aliens
8. Anthem (I Promise) - Roky Erickson
9. Warning (Social And Social-Political Injustices)
- Roky Erickson
10. The Beas - Roky Erickson & Evil Hook Wildlife E.T.
11. You Don't Love Me Yet - Roky Erickson
12. Clear Night For Love - Roky Erickson
13. Don't Slander Me - Roky Erickson Start Start
14. Nothing In Return - Roky Erickson
15. Burn The Flames - Roky Erickson
16. When You Get Delighted - Roky Erickson
17. True Love Cast Out All Evil - Roky Erickson
18. For You (I'd Do Anything) - Roky Erickson
19. Please Judge - Roky Erickson
20. We Are Never Talking - Roky Erickson
21. I'm Gonna Free Her - Roky Erickson