Hawke: "Love Won Another"
(Sunburn)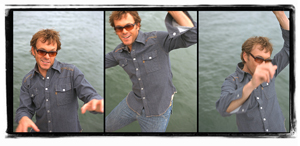 Welcome to an elaborate musical universe created by GAVIN HARDKISS. HAWKE characterizes the many collaborations and original sound clashes executed by one of the world's most renowned and mysterious DJ/Producers. In 1992 he recorded the first single "3 Nudes in a Purple Garden" which was featured on the classic Hardkiss album DELUSIONS OF GRANDEUR. Out of print, this album is so coveted that used copies sell for $200 on E-bay.

Over the past decade, he has remixed the likes of Elton John and The Beatles, performed alongside Snoop Dogg and The Buena Vista Social Club and released original recordings in Spain, France, Italy, the United Kingdom and the United States. Gavin's focus, however, has consistently been on the artist albums released under the guise HAWKE. NAMAQUADISCO was released on Sunburn Recordings in 1998 and HEATSTROKE released on Six Degrees Records in 2002.
Now, Hawke presents the third original album called LOVE WON ANOTHER. Recorded in the hills above Calistoga California in the Napa Valley, amongst the olive trees, vineyards and wild life, this album resounds in youthful authenticity. Earmarked with an organic blend of electronic music and indie influences, LOVE WON ANOTHER marks the height of a creative arc of a man possessed with the courage to create something we've never heard before.
The album is a dazzling collection of songs culled from sessions with a variety of musicians, friends, lovers and artists who visited the Calistoga retreat over a period of 2 years.

Between harvesting olives and crushing grapes with bare feet, guests to the farmhouse would contribute song. With traditional instruments, household appliances and children's musical toys alongside the electronics and computer studio equipment, the album is irresistably eclectic.
The title song "Love Won Another" features vocals by ex-mayor of San Francisco Willy Brown's chauffeur. After meeting Maestro playing dominos at a local Calistoga bar called Suzie's, Gavin persuaded him to join the studio sessions back at the farmhouse. At first reluctant, Maestro succumbed with an offering of shared publishing and a bottle of Piraat aged rum. As it turned out, Maestro had recorded for a host of local Fillmore labels during the '50s and had toured with Earth, Wind and Fire in the '70s. The sessions produced a song that is compelling and distinct, conjuring Curtis Mayfield stretched out in a smokey future-funk lounge.
"The Monkey's Wedding" and "Garden of Your Mind" feature the eloquent and versatile violin of Fernie Apodaca. Only an African would know that a monkey's wedding is a term used to describe the phenomenon of sunshine during a rainstorm. Fernie, having returned from

Kenya where he was filming a surrealist movie about a resurrected vampire tormenting the local tribe's men, titled Majini, brought the rain into the studio. While recording, the studio sprung a dozen leaks and the equipment had to be strategically placed between streams and droplets in order to complete the session. Yes, the monkeys are real and they played instruments we'd never seen before and wouldn't know how to describe.
"Garden of Your Mind" was conceived in the village of Caraques on the Spanish Riviera where Hawke was billed to play live at the unique Discoteque Rachdingue. The club was originally opened by Salvador Dali and his muse Miette in 1968 and continues to be a cutting edge venue over 35 years later. Club goes drive hours to this venue to party to a flood of world famous electronic talent under the stars amongst the giant cactuses and surrealist sculptures. Locked inside the inner courtyard of the stone fortress (the staff had left for dinner leaving the band alone to do a sound check), Gavin and guitarist Jay Bowman the spitits into impromptu live performance which became the basis for the song.
"Juanita Cabana" is a stream of conscious hallucination mesmorized in a Jacuzzi in a small beach town called Miami after an unforgetable sunrise party. Vocal performance courtesy of graffiti artist and latino troubadour Briejock, horns by a Cuban defector known simply as Ben and guitars by ex-Steve Miller guitarist David Denny. This song a is a hazy memory that is transparent like frosted glass. Who is this woman with canary feathers in her hair?
"Can You See the Love?" was written with Rahmeen Shary who provides vocals and flamenco and electric guitars. This song sounds like a ray of sunlight cutting through a tense atmosphere. It is a voyage of sonic discovery that was recorded and re-recorded a dozen times to get the perfect balance of mood and pace. Remixed by David Christopher of Rabbit-in-the–Moon and Fluke's King of Cool Mr. Hugh Bryder, "Can You See the Love?" is the dance anthem of the album.
"The Hardest Kiss" began life as a 12 minute Latin dance track full of gypsies, shooting stars and flamenco guitar, but was eventually resolved into a three minute pop song that is vital and cutting in its honesty and echoing truth. With guitars by shoe-gazing Sunburn co-hort Lovesky and vocals by Bay Area pop phenomenon Kenon Chen, the lyrics, written by Gavin Hardkiss, cut deep. Listen closely and you might hear a lifetime slip away. Listen too closely and we may have to call in the mermaids.
"Remember Tomorrow" and "Positive Subtracting" are collaborations with guitarist and vocalist David Denny. David was a member of The Steve Miller Band with whom he toured during the '70s and co-wrote the song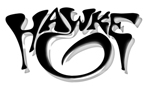 "The Stand." Gavin and David began working together in the late 1990s when they occupied ajoining studio spaces at Hyde Street Studios deep in the Tenderloin. These songs are vivid like wild flowers that sprout messages of life from deep within. Dim and dark then bright and young. Life is full of contradictions.
"Flower Girl" is pop perfection. Fast and energetic like the little girls at your sister's wedding. It started as a bare breasted nymph and dovetailed into becoming a hot punk rocking adolescent. Daniel Lippencott, who is the drunken monkey, would visit the farm house in Calistoga in his white van crammed with Marshall stacks and various instruments. But it was the children's xylaphone and other plastic toys that were the most fun to play with. Together they all sound charming. Daniel also collaborated on the intro song "We Come From Far" before returning to the travelling circus where he earns his living.

(new website coming soon)
Links: