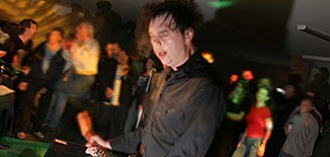 Heavenly States - "Black Comet" (Barea)
Heavenly States may be known by some mostly as the Bay Area band that last year played in Libya. It got them some great local and national press, which was well deserved even if their tour had only reached the Midwest instead of the Middle East. (Read Story)
Comprised of way-too-smart-for-his-own-good singer-guitarist Ted Nesseth, who plays his right-handed guitar upside down, violinist-keyboard player beauty Genevieve Gagon and drummer Jeremy Gagon, the band has been prolificly recording, touring, and being a great band for the last five years, ever since HS rose from the ashes of Ted's former band, Fluke Starbucker.
Their third album, "Black Comet" is a real chamber-rock record, relentless and full but raw and truly played. Their recordings and videos, including the animation for "Pretty Life" were well received and reviewed. With politically charged lyrics and musical influences that run the gamut from Springsteen to Nirvana, their records have improved with each release and with each repeated listening.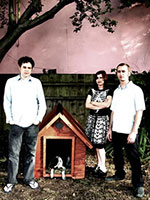 The real draw for this band and much of its reputation is based on its live show. The band has been playing out from the 8th day of its existence when Genevieve set herself on fire by lighting her scarf at a Minneapolis New Years Eve show. Since then, they have toured Australia, the UK, Egypt, several times around the USA and are the first rock band to play Libya. In early 2005 The Heavenly States broke the occidental sound barrier when after months of negotiations they carted half their gear to Africa and played the greatest underground show of their careers in a Tripoli basement. Then, after bringing their independent music alternative to Cairo, Egypt where they performed two shows on their return to Europe, they dared to perform Rock the Casbah in London and weren't murdered on the spot.
Here's how the band chose to describe themselves on their bio:
"This is dazzlingly executed "pop" with more hooks n' sleeved-tricks than a 1000 midwestern Replacements ripoff bands combined, that may at times disguise itself as transatlantic moody alternative radio rock but ultimately transcends that and far surpasses it through sheer force and imagination. A dimension of the musicianship recalls the first time you heard Meat Puppets I and said, wow these people can actually play the fuck out of their instruments.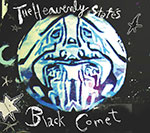 There are 3 powerful little engines working together and against each other in this music, dense drumming that chugs at the full tilt of Albini-spawn 90's postrock but crams more ideas in per measure. There are blistering guitar layers that recall the Thurston Moore approach of burying melodies inside chord voicings and noise, and violin playing that brings a precise lyricism to the project with all the sass of Cale's string contributions to VU yet more technically accomplished.

Imagine if you were at an electro dance party that didn't suck because the music was played with the verve and bravado which, at the time of writing this, is still beyond the capability of most robots or even your average hipster grist. As you would at a good dance party, you find your self blasted against and enveloped within a complex and rocked-out wall of frequencies somehow navigable as carefully crafted verse-chorus-verse-bridge-chorus tunesmithing. All this is achieved without the gimicry of odd mathy time signatures or Kool pallettes of sounds. The instrument setting takes rock performance in a new direction."
Track listing:
1. Look and Listen
2. Pretty Life
3. Black Comet
4. Borderline
5. Song in F
6. Elastic Days
7. Racetrack
8. Light Dressed Storm
9. Vacant
10. The Pale
11. A Revolution Away
12. The Witness
Links: