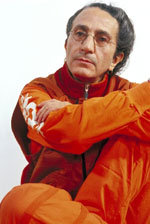 Cheb i Sabbah –
"La Kahena"
(Six Degrees)
Cheb i Sabbah left his native Algeria in the 1960s, and has made a career out of blending music from all over the world into kaleidoscopic, dance-floor mixes ever since. He began spinning in Paris in 1964, and has introduced San Francisco to some of the earliest attempts at turning the spinning of discs into a dramatic art. In the late'80s he became a fixture on the club scene in San Francisco. Throughout his multifaceted creative life he has presented world music concerts including performances by Nusrat Fateh Ali Khan and jazz trumpeter Don Cherry. It was through Cheb I Sabbbah's friendship with Don Cherrythat we came to know each other.
As an artist Cheb I Sabbah has released a trilogy of masterful albums for Six Degrees Records, Shri Durga (1999), MahaMaya - Shri Durga ReMixed (2000), and Krishna Lila (2002), are cult classics in which India's time-honored traditions merge with the universe of possibilities afforded by contemporary recording technology. This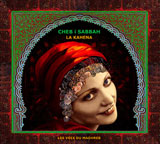 trilogy established him as a unique artist who creates bridges between cultures with a deeply moving sound drawn from DJ wizardry and world music aesthetics. His fourth release was a continuous DJ mix entitled AS FAR AS, on which the traditions of Asia, Arabia and Africa, Sabbah's main sources of inspiration, are all represented as if the listener were attending one of his renowned live sets. From here he turned his attention to North Africa. (see related article)
On La Kahena, Cheb i Sabbah returns to his North African roots, collaborating with some of the most distinctive female singers from the Maghreb. Recording in studios in Marrakesh, San Francisco, New York and New Delhi, Sabbah has added his own "dj Science" or modern aural magic to these performances making La Kahena a truly original and groundbreaking project.
The music on La Kahena is a provocative mix of Arab, Jewish, and Berber (Amazigh), elements. Filtered through Cheb i Sabbah's transformational technology, cultural diversity plays out in contrasting musical textures. For him, a broad range of sounds and moods is everything. He says, "It's like Don Cherry used to say: there's some music to dance to, but we can't dance all day long. There's some music to contemplate with, just to chill with, for meditation."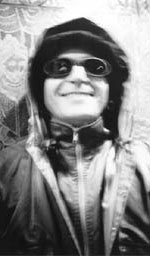 The opening track, "Esh ´Dani, Alash Mshit," features Algerian raï diva Cheba Zahouania invoking the name of Sabbah's birthplace, Constantine, within a music mix that spans raï, reggae, techno, and North African oud and violin. "I'm from Algeria, but it's not a place I can go easily," says Cheb i Sabbah, pointing out that this track was a spiritual—alas not physical—return to his home country. But Sabbah could and did visit neighboring Morocco, and that's where most of the music woven within these eight, richly complex sonic masterpieces was recorded.
The group Ouled Ben Aguida play a music called aïta, which means to cry, or to call out, and their long track merges two songs, building to a jittery, 12/8 shuffle with soulful call-and-response singing before opening into an instrumental space where violin and oud exchange riffs over tumbling percussion. Bill Laswell's ambient bass line reveals the producer's hand at work, but the piece retains Berber authenticity. Meanwhile, on "Im Ninalou," Michal Cohen's sharp, clear voice emerges from pendulous percussion and stays center stage as Cheb i Sabbah pulls out the club beats. It's a tried-and-true formula, the diva dance track, with a moody, Middle Eastern twist.
Track Listing:
1. Esh 'Dani, Alash Mshit: Why Did I Follow Him?
2. Sadats: Saints Of Marrakesh
3. Toura Toura
4. i - Alla Al 'Hbab: Blessed Be My Friends; ii - Hajti Fi Gurini: Longing For My Lover
5. Madh Assalhin: Praising Of the Saints
6. i - Alkher Illa Doffor: Peace Is Found Behind Wounds; ii - Ad Izayanugass: What Will Happen Will Happen
7. Im Ninalou: If The Doors Are Locked
8. Jarat Fil Hub: Love's Chalice
Links: