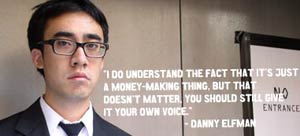 Mike Relm – "Radio Fryer"
Mike Relm is arguably the most entertaining live DJ since Mix Master Mike and DJ Z-Trip. By combining old school hip hop, a broad record collector's sensibility, and new video technology, he truly stands alone. Relm takes audio-video technology to new heights by "scratching" video clips from well known movies and videos, interspersed with his own vignettes, to create a unique one of a kind live performance experience. As the videographer for my old friends the Invisibl Skatch Piklz, as well as an award winning scratch dj in his own right, his credentials are impeccable. Always dressed in a black suit, white shirt, skinny tie and black-rimmed glasses, he defies the usual hiphop aesthetic in exchange for a new wave nerdcore image. Make no mistake about his knowledge and skills however; this guy mixes vinyl and video images, literally scratching dvds projected on an overhead screen, while displaying a record collector's love of everything under the sun. His live show is like no other, and has recently caught the attention of artists as diverse as the Yeah Yeah Yeahs and Matisyahu, who have snagged him as their opening act.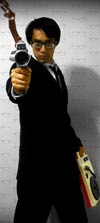 On "Radio Fryer" Relm provides a mixtape that fairly accurately connotes the audio performance of his live show. His emphasis cutting from funk and hiphop to eighties rock and new wave is reminiscent of the current "mash-up" craze, revealing a willingness to take chances, and reveal his love for sides that are questionably hip but definitely fun, as evidenced by Beverly Hills Cop theme, "Axle F" and Michael's "Billie Jean.", mixed in with a Tim Burton tribute, the Peanuts Christmas music of Vince Guaraldi, and doses of Joy Division and New Order. His love for music is on display throughout, and the diversity of sounds he daringly juxtaposes are without equal. With the current state of modern rock and it's move away from male dominated agro rock hi[phop fusion, Relm's sensibilities are just what the doctor ordered to get the party started.
In a recent live show in which Relm opened for Kid Koala during San Francisco's Noise Pop Festival, he contorted Bjork's "Human Behavior" video, and layered an instrumental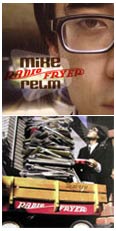 of Run-DMC's "It's Like That" underneath while cutting up the Bjork video on the DVDJ. Watching Bjork sputter her words in spastic convulsions drove the crowd nuts. He repeated this formula to great success—working with Bruce Lee clips, scenes from Office Space, Fight Club, School of Rock, Reservoir Dogs, and High Fidelity, and The Flaming Lips, Rage Against the Machine's "Bulls on Parade," Led Zeppelin's "Immigrant Song" and Vince Guaraldi's "Linus and Lucy" (complete with A Charlie Brown Christmas dance party). Relm's encore was a singalong version of Lennon's "Imagine" cued up to a video of the DJ flipping lyric sheets a la Dylan's "Subterranean Homesick Blues". The audience held up lighters and cell phones and chanted to Lennon's peace anthem.
Here is a review of Mike Relm's "Radio Fryer" mix cd that appeared in Prefixmag, and states the case better than I could ever could myself: prefixmag.com
Links: