The Grannies:
"Erected Lady Man"

(Wondertaker)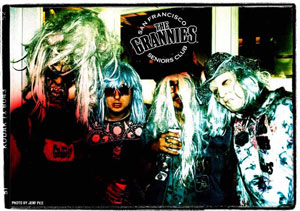 This 12-song cd, recorded last Halloween by Jack Endino (Mudhoney, Soundgarden, etc) in Seattle. Is the third album from the Grannies, released stateside by Wondertaker Records, and throughout Europe by Triggerfish/Cargo Records. The band will tour Europe this summer in support of the release. The album charted #1 on KSCU's Loud Report to CMJ two weeks in a row. Here's what the band has to say about the new release:
Sluggo, who you may remember as the dude making Hullabaloo flyers at the counter of Charrette in Harvard Square in 1988, or possibly as the guy who runs San Fran superrock dealers Wondertaker Records (formerly Dead Teenager records, formerly the home of Dirty Power), has a rip-snorting punk n' rollin' band of his own, The Grannies. They are called the Grannies 'cuz that's how they dress, see, in over-sized flower-print house dresses and old-folks make-up and white wigs, and like, walkers and canes and shit.
Eschewing the speed-trial flail of their previous outings, on "Erected Lady Man" (ha ha!), the Grannies toss in all manner of great rock n' roll song - ya get the bitchin'
Twin-Tone-esque roots n' roll of the (swear to Christ) touching pseudo-ballad "The Wrong Song", the 70's thunderboogie express of "Drainpipe", the Dolls-y swagger-glam of "Teenage Kicks", the Motor City meltdown of biker-scuzzfest "Crime Still Pays" - and lotsa fast n' nasty stabs of punk-ass speed rock in between. Best of all, regardless of what mode they're in, whether it's sincere rock revivalists or snotty, tranny-granny punk rock assholes, they lay on the hooks and the howls and the cock-rockin' guitar solos like...like they're not even dressed like arthritic 70 year old broads at all. Trust me on this one, as soon as the nurse is done giving you a sponge bath, tell her to get you a copy of this record. It's almost as good as those awesome big blue pills they give you whenever you get caught jerking off in the TV room.
Links: