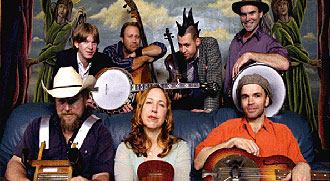 Asylum Street Spankers
"Re-Assembly" dvd
& "Mercurial" cd (Spanks A Lot)
Austin's Asylum Street Spankers have just released a second consecutive live concert dvd, entitled, "Re-Assembly", a videotaped ten-year anniversary performance at the Texas Union Theatre, which features 21 past and present band members.
Defiantly acoustic, fiercely independent and absurdly good, the Spankers have been led by founders Christina Marrs and Wammo from being a country-blues revival act playing happy hours in Austin, through nearly 40 musicians, endless touring and constant evolution to being an internationally renowned underground

institution. Although, humor is an essential part of the band's presentation, and being clever can be a dangerous thing in the hands of most musicians,…this band is no joke. Great musicianship and singing is an equally important ingredient to the band's high-energy recipe.
Last year, the band released its first concert dvd entitled, "Sideshow Fez", which captured a concert performance in Portland, Oregon, much of which is based on material from their last cd, "Mercurial", a live to two-track recording that also capitalizes on the band's great live shows and the humor and musicianship upon which their reputation has been built.
Here's what the All Music Guide had to say about "Mercurial":
"Austin's all-acoustic ensemble covers a lot of ground on this typically eclectic outing. Blues, folk, jazz, rockabilly, klezmer, new wave, and even punk go through the Asylum Street Spankers' retro wringer, and all emerge in the band's typically swinging, if slightly gimmicky, fashion. The Beastie Boys' "Paul Revere" is transformed into an authentic rockabilly breakdown, somewhat like a combination of Manhattan Transfer and Sun-era Elvis. Black Flag's "TV Party" goes the hoedown route and now sounds like something the cast from Hee Haw recorded, complete with snappy TV jokes and theme songs from Bonanza, The Flintstones, and Jeopardy. Not as giggly but far better is a radically reworked version of the blues chestnut "Got My Mojo Workin'" sung as a slinky, finger-popping torch song by group co-founding member Christina Marrs. The swinging Dixieland side of the group is well represented by Sophie Tucker's "Some of These Days," a straight version enhanced by banjo, fiddle, and clarinet. A no-frills cover of the B-52's' "Dance This Mess Around" might be fun for those who don't know the original, but the Spankers' version doesn't noticeably improve or even alter the original and, worse, interrupts the flow of the album. The suggestive "Tight Like That," made popular by Tampa Red, gets the lyrics to Jim Carroll's "People Who Died" grafted onto the chorus, successfully combining two especially disparate genres in a very funny and unexpected -- at least once -- juxtaposition. Bessie Smith's salacious "Sugar in My Bowl," Ivory Joe Hunter's "Since I Met You Baby," and the pop standard "Shine on Harvest Moon" are all relatively unaltered, although the Spankers' winking humor is unmistakable. Mercurial is frisky, good-natured fun and a fine way to break into the band's lively retro sound and entertaining, self-deprecating but reverent Americana approach." ~ Hal Horowitz
Links: