SVT : "No Regrets"
(Rykodisc)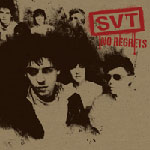 Over the course of more than a decade, I have represented the Estate of Brian Marnell in its efforts to acquire and reissue the music of Brian Marnell and the San Francisco band, SVT. Rescued from the vaults of Fantasy Studios, the album, "No Regrets" has been remastered, and repackaged with new liner notes and rare photos, and includes previously unavailable bonus tracks by Rykodisc Records, one of the country's foremost labels when it come to reissues.
Originally released in 1981 on MSI Records, the label run by the owners of the Berkeley Square nightclub (who also released the brilliant Mutants album), the album represents the time and energy of the original punk rock/new wave scene which flourished in San Francisco in the late seventies.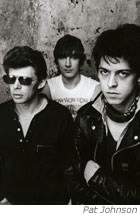 Known for their early '80s indie radio smash "Heart of Stone," SVT was originally the Jack Casady Band, named after their bassist of Jefferson Airplane and Hot Tuna. Their unique style of hard rock is a lost-classic of the era. SVT features the incredible songs and vocals of Brian Marnell, a San Francisco legend who died too young.
Gone but not forgotten.
Track Listing:
1. Bleeding Heart
2. Waiting for You
3. Heart of Stone
4. No Regrets
5. Money Street
6. Love Blind
7. North Beach
8. What I Don't Like
9. Secret
10. Too Late
11. You Don't Rock
12. All I Want (bonus track)
13. Phone Calls (bonus track)
14. Outside/Inside (bonus track)
15. Girls (bonus track)