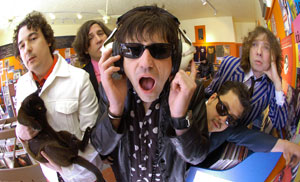 Cobra Verde
"Copycat Killers"
(Scamcity)
I recently hooked up with Cobra Verde during one of my frequent visits to my hometown of Cleveland. I had a falafel and fries with John and Tim at Tommy's Restaurant on Coventry, on a sticky Midwest hot summer night. Cobra Verde are a definitive Cleveland band, in the proud tradition of The Choir, James Gang, the Rasberries, Pere Ubu, and the Dead Boys. They wear on their sleeves the influences that growing up in Cleveland will leave on your sleeve, and the connections to punk, glam, indy, arena rock, and blue-collar influences are everywhere.
They just released a new album of cover songs, but not just ANY covers.

Here's the way the album was described by their label:
"What do you get when you cross Pink with Hawkwind, Brit-pop mopers, post-punk junk, disco spunk, denim and leather, spandex and polyester, fringe and feathers? We have no idea. But you might find out by listening to Cobra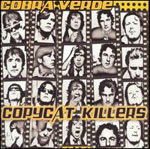 Verde's latest, greatest disc, "Copycat Killers." The covers album collects 12 tunes you'd never hear on a K-Tel comp, let alone during prom night. "Copycat Killers" opens with a pot-induced rendition of Pink's "Get the Party Started" and includes everything from a kraut-rockin' take on Donna Summer's "I Feel Love" to whomp-and-stomp nuggets by the Troggs, Flamin' Groovies and, uh, New Order. That's not all -- it never is with these Cleveland rock legends. How about a Motownified take on Hawkwind? A Bo Diddley-ized upgrade of the Fall? Or a version of the Stones' "Play With Fire" that sounds like a stalker on an answering machine?"
The Track listing:
1. Get the Party Started (Pink)
2. Underpants (Easter Monkeys, new version)
3. Temptation (New Order)
4. I Feel Love (Donna Summer/Giorgio Moroder)
5. Urban Guerilla (Hawkwind)
6. I Want You (The Troggs)
7. Play With Fire (Rolling Stones)
8. Teenage Kicks (Undertones)
9. Yesterday`s Numbers (Flamin` Groovies)
10. The Dice Man (The Fall)
11. So Long, Marianne (Leonard Cohen)
12. Rock and Roll Queen (Mott the Hoople)

A little history lesson,….
"Although many first became aware of Cobra Verde when they joined forces with Robert Pollard in Guided By Voices, they are certainly not just any ordinary backing band. The band rose from the ashes from the out-of-control, Cleveland-based Death of Samantha, who released three full-length albums and one EP on the Homestead label. The new group wanted to achieve a more atmospheric sound than its predecessor, and did so by the time of their 1994 debut on Scat Records, Viva La Muerte.

Combining the impact of punk with the urgency of early-'70s glam rock, the record was voted one of the year's best independent releases by both Rolling Stone and Request Magazine. It was also around this time that the group toured with fellow Scat recording artists Guided By Voices and struck up a friendship with GBV leader Pollard, which would later come in handy.
1995-96 saw the group release a flurry of singles, as well as the Vintage Crime EP, which helped increase the band's popularity with the alternative-rock crowd. It was during 1996 that Robert Pollard decided to split up the original lineup of Guided By Voices, and Cobra Verde approached Pollard about being their replacements. Pollard agreed, and the results can be heard on 1997's Mag Earwhig!, considered by many as the best GBV album since 1994's classic Bee Thousand. Cobra Verde is still a separate group, though, splitting their time equally between both bands, and also finding the time to release a compilation of singles and unreleased tracks entitled Egomania (Love Songs) in 1997." ~ Greg Prato, All Music Guide
Links: