Clarinet Thing
"Agony Pipes and Misery Sticks"
(BC Records)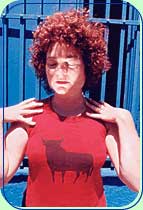 BETH CUSTER is a San Francisco based composer, performer, bandleader, clarinet teacher, and the proprietress of BC Records.

Her new album with the woodwind ensemble, Clarinet Thing, contains a collection of live recordings from Beth Custer's clarinet quintet's 15 years of Bay Area performances. "Agony Pipes and Misery Sticks" features Beth playing with Ben Goldberg, Ralph Carney, Sheldon Brown, Peter Josheff, on Eb, Bb, and bass clarinets.
According to Beth, there is nothing like blowing a horn. It oxygenates the body, clears the mind, and causes mood responses from meditative to giddy, ecstatic, to contemplative. I come from a long tradition of groups of horns blowing together in harmony and dissonance, both in and out of tune! All this blowing led Bay Area award winning musician Beth Custer to form Clarinet Thing.
In 1990 she sought out four of her favorite Bay Area clarinetists, for their unique sound and approach to the clarinet, for their musicality, friendship, and sense of humor. It was essential to me that the group have a lot of variety in compositional styles. Each member is a composer and ensemble leader in their own right.

Beth is a founding member of the notorious silent film soundtrack purveyors the Club Foot Orchestra, 4th world ambient ensemble Trance Mission, the quintet of esteemed clarinetists Clarinet Thing, the trip-hop duo Eighty Mile Beach, and the Latin-jazz-rock influenced Doña Luz 30 Besos. She now leads The Beth Custer Ensemble.
Beth has been composer for the cutting edge dance-theater troupe the Joe Goode Performance Group for over 10 years, having composed for seven of their productions. Recent soundtrack work includes a season of the cartoon "The Twisted Tales of Felix the Cat" for CBS/Film Roman, "Independent View" theme for KQED television, as well as many indie films, most notably those of Cathy Crane, Craig Baldwin, Esther Paik, Will Zavala, and Kwon & Iger. Theater compositions include productions by California Shakespeare Company, Campo Santos, Magic Theater, and Berkeley and San Diego Repertory Theaters.
As a free-lance clarinetist, Beth has performed with Fred Frith, Chris Cutler, Connie Champagne, Jin Hi Kim, Miya Masaoka, Will Bernard, Grassy Knoll, Violent Femmes, Joshua Brody, Sky Cries Mary, Snakefinger and many others. She received her Masters in Clarinet Performance at San Francisco State University and then studied clarinet for four years with the eminent Rosario Mazzeo.
Track Listing:

1. Echoes Of Harlem
2. Vou Vivendo
3. Akeem The Dream
4. Sweeping Staircase
5. Fired Manager Blues
6. Touchy
7. Sticks And Stones
8. Memories Of You
9. Das Lied von den braunen Inseln
10. Oberek Krakowski
11. Song Of The Unsung
12. The Lips That Kissed The Paper
13. Primitive Southern Brass Band Piece
14. Family Heap
15. Mountains Of The Moon
16. The Mooch
Links: