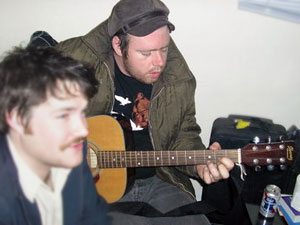 Brian Glaze
"Let's Go To The Sea"
(Birdman)

New from Birdman Records is the first solo effort from former psychedelic troubadour, Brian Glaze. This former Brian Jonestown Massacre drummer and accomplished stone sculptor hooked up with Gris Gris leader Greg Ashley, and recorded the album in Greg's apartment. These murky, lo-fi, echo-laden psychedelic folk recordings were performed almost entirely by Glaze and Ashley. The album connotes influences ranging from Pink Floyd and Velvet Underground to the English psych of Spacemen 3, but the album's folky acoustic guitars mixed with electric psychedelic overtones has a sound that stands alone.
According to the label description, "Let's Go To The Sea" features "the same '60s syrup that sweetened The Thirteenth

Floor Elevators' "Easter Everywhere", and invites the willing on a trip through the mind of this modern songwriter as he sings of love lost and found. Add the homemade sound of legendary Brother JT, and you get an idea of what Let's Go To The Sea has to offer. Glaze's band of sailors includes former members of Gris Gris, an actual hurdy gurdy man and a crew of other seasoned musical hands.

Local music maven David Katznelson and his Birdman Records imprint have long embraced sonic wayfarers traveling on the acid-fried fringe of music, best exemplified by Gris Gris and the solo work of Greg Ashley. Not surprising, considering the effort was recorded at the neopsych wunderkind's apartment and — save for a couple of incidental guitar and vocal parts — features Glaze and Ashley playing all the instruments. Though a familiarly fractured Syd Barrett melancholy informs the album-opening tandem of "Oh Baby Don't Go to the Sea" and "Daylight," Glaze gradually establishes his own assured voice with the shambling sweetness of "Can I Look at You?" and the jaunty, almost Donovan-esque "Brittle Piece of My Heart."
All off to sea!


Track Listing:
1. Oh Baby Don`t Go To The Sea
2. Don`t Believe In Love
3. I`ll Wait While You Run
4. Daylight
5. Can I Look At You?
6. Well Did Ya Mean It?
7. New Shoes
8. Oh My God, God
9. Brittle Piece Of My Heart
10. Other Side, The
11. Oakland...
Links: