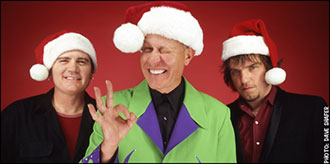 Reverend Horton Heat
"We Three Kings" (Yep Roc)
I've loved Christmas music ever since Phil Spector showed the world how its done, and thank Jesus for this year's new crop of cds (which also include gems by Brian Wilson and Brian Setzer). But the Reverend Horton Heat, aka Jim Heath, has gotta be the biggest, baddest, grittiest, greasiest, greatest rocker that ever put on a Santa suit and pound down some egg nog in years.
Last year, when The Reverend Horton Heat blew through San Francisco to play Bimbo's on New Year's Eve, I got a chance to hang with the Rev and heard about his plan to record a Christmas cd. I burned him a cd of some songs that I thought he might dig and/or consider recording for the album, and lo and behold ho ho ho, a couple of my recommendations were apparantly taken to heart.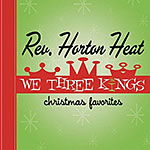 It didn't take a genius to suggest covers of Elvis's "Santa Bring My Baby Back to Me", Buck Owens' "Santa Looked a Lot Like Daddy", "Willie Nelson's "Pretty Paper", or Chuck Berry's "Run Run Rudolph", but they sure were well suited for the Rev, and the proof is now available. And then to cap it off, there's the new original, "Santa On the Roof". "We Three Kings", the band's second release for Yep Roc Records, is the best new Christmas album in awhile.
Track listing:
1. Frosty The Snowman
2. Santa Bring My Baby Back
3. Jingle Bells
4. Santa Claus Is Coming To Town
5. Silver Bells
6. We Three Kings
7. Santa Looked Like Daddy
8. Rudolph The Red Nose Reindeer
9. Santa On The Roof
10. What Child Is This
11. Pretty Paper
12. Winter Wonderland
13. Run Rudolph Run
The New Year is here and that means it's time for the Rev & Co to head out on the road. Below are the dates at which you can catch the Rev. Horton Heat on the road continually playing some of your holiday favorites:
01/03/06 Albuquerque, NM Launchpad
02/15/06 Lubbock, TX Jakes
02/16/06 Colorado Springs, CO The Black Sheep
02/17/06 Boulder, CO Fox Theatre
02/18/06 Denver, CO Ogden Theatre
02/19/06 Ft. Collins, CO Aggie Theatre
02/20/06 Steamboat Springs, CO Levelz
02/22/06 Breckenridge, CO Sherpa & Yeti's
02/23/06 Vail, CO 8150
02/24/06 Vail, CO 8150
02/25/06 Loveland, CO White Buffalo
02/26/06 Aspen, CO Belly Up
02/28/06 Teton Village, WY Mangy Moose
03/01/06 Teton Village, WY Mangy Moose
03/04/06 Las Vegas, NV Empire Ballroom
03/05/06 Tucson, AZ City Limits
03/06/06 El Paso, TX Lucky Devils
03/29/06 Wien, Austria Arena
03/30/06 Salzburg, Austria Rockhouse
03/31/06 Zurich, Switzerland Mascotte
04/01/06 Speyer, Germany Halle 101
04/02/06 Berlin, Germany Columbia Fritz
04/04/06 G öteborg, Sweden Sticky Fingers
04/05/06 Stockholm, Sweden Debaser
04/06/06 Oslo, Norway John Dee
04/07/06 Malm ö, Sweden KB
04/08/06 Copenhagen, Denmark Stengade
04/09/06 Bochum, Germany Kulturbahnhof
04/11/06 Antwerp, Beligum Hofterloo
04/12/06 Brighton, UK Concorde 2
04/13/06 Manchester, UK Academy 3
04/14/06 London, UK The Garage
04/15/06 Amsterdam, Holland Melkweg
04/16/06 Schjindel, Holland Paaspop
Links: