Dirk Hamilton:
SEXspringEVERYTHING
(Acoustic Rock)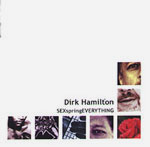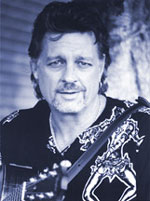 All Music Guide Review:
Dirk Hamilton has always brought a folksinger's literacy, a rocker's edge, and a somewhat skewed point of view to his records, and SEXspringEVERYTHING, though slightly less quirky than his early work, follows suit. Twenty-five years after the release of his debut for ABC Records, Hamilton displays an intelligence and insight that only comes with experience. Amidst the highs and lows, wants and needs, and failed plans of life, he seems at once content, yet driven; skeptical, yet hopeful; and uncertain, yet full of faith. And while musically there's nothing fashionable, or even necessarily new here, there is an unmistakably unique style, built around Hamilton's rhythm guitar, raspy tenor, and inventive phrasing, that is clearly his own. Throughout, Hamilton and his first-rate band — featuring co-producer Bradley Kopp's lead guitar and former Spirit, Firefall, and Heart bassist Mark Andes — infuse the album with a classic feel that, like his songs, sneaks up on you a little more with each listen. Songs such as "You Taught Me How to Love (Now I Can Love)," "Better Off Live," the tender "Hey Tyrette," and the records best track, "Myth and Disguise," display the maturity and passion of a man who has been around but still sees this as the "…time of [his] life…" His first new recording in nearly five years, SEXspringEVERYTHING is another strong outing from a true original, in a time when too many veterans of the '70s singer/songwriter school have become tiresome, slick, and repetitious. — BRETT HARTENBACH
Hamilton, accompanied by guitar ace Bradley Kopp, whose credits include lots of work with Jimmie Dale Gilmore and who produced "SsE" with Hamilton, will be at Casbeers tonight at 8:30 p.m.

Though he now lives in Texas, Hamilton does not fit the stereotype of Lone Star State singing songwriters. His songs don't include armed robberies, Old West sagas or agricultural-themed laments.

Hamilton's songs do, however, include unvarnished realities and poetic words about struggling and loving and living and irony and family and the difficulties involved with trying to capitalize on the discovery of a corpse. His voice, rugged and lived-in, hammers the lyrics home.

"SsE" is out on Hamilton's own Acoustic Rock Records. Through the years, he has had discs released on big labels such as ABC and Elektra, turned away from the music business, found himself HUGE in Italy and never quit writing. The payoff, for listeners who truly listen, is the fact that Hamilton doesn't worry about fad and fancy and fashion. He writes songs and sings them and lets those who pay attention make their own decisions.
Links: