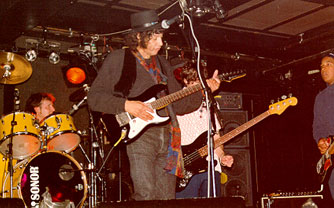 Arthur Lee & Love:
Electrically Speaking
(Almafame)
With Arthur Lee recently released from prison, and touring America with backup group Baby Lemonade, this album of his live performance from 1991 has even greater recent relevance. The project was the labor of love (no pun intended) of our friend and client Keith Dion, who discovered the tape, and worked with the representatives of Arthur Lee, and the English label, Almafame to make this record possible.
Electrically Speaking is officially sanctioned by Arthur Lee & Love and represents the first album in an ongoing series of Love recordings that will be released by Almafame. The album was recorded at My Place, Santa Monica, California (28 November 1991) and the bonus tracks were recorded at My Place in 1992.
Packaging includes a deluxe eight page booklet with sleeve notes written Keith Dion, an authority on the subject of Love! The release also includes exclusive photos and a groovy slip case. Here is the complete track listing:
Alone Again Or
My Little Red Book
7 & 7 Is
Orange Skies
Signed DC
The Everlasting First
And More Again
Hey Joe
She Comes In Colours
Everybody's Gotta Live/Instant Karma
That's The Way It Goes (Bonus Track)
Signed DC (Bonus Track)
And More Again (Bonus Track)
Little Wing (Bonus Track)
Links: