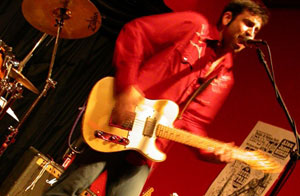 Rich McCulley
Far From My Angel
Recently transplanted from San Francisco to Los Angeles, rootsy pop rocker Rich McCulley removed himself from a city of heartbreak so as to find the right headspace to work it out in song. Far From My Angel is just that exercise, a cycle that begins with shock and frustration, clear from the opening track "First Word", with its lead-in line, "I left my heart in San Francisco." It's then brought around to understanding and release, as the disc closes with the powerful and driving "I Am Free". And an exuberant way to go, as this self-produced disc jangles and grinds its way through a series of vitriolic rockers ("Hope You're Happy"), introspective roots-pop ("Waterfall"), blues-tinged grooves ("Follow Me Down") and bare acoustic alt. country ("8 Years Ago Today"). All in all, this is great songwriting and sounds in the Pete Droge vein, that bites its way through the mystery of love lost and music's healing properties.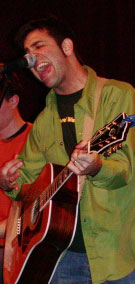 Suspicion. Deceit. Infidelity. Heartbreak. Love found turns to love lost. Ten years?gone. Women can be such devils. Leaving his heart in San Francisco, recording artist Rich McCulley took refuge in the City of Angels. Start again. More focused and inspired than ever. Yielding dark lyrics that reveal the struggle of various relationships we've all experienced, McCulley's music is surprisingly upbeat, fun and cathartic. Almost as if McCulley couldn't free himself of the emotional chains?so he just ROCKS 'em off!
Rich McCulley plays energetic original rock 'n' roots-pop songs flowing with indelible guitar-based melodies. McCulley's current recordings feature his distinctive chopped gravel vocal rasp - hailed by IndieMusic.com as, "a great rock and roll voice" - as well as his cross-genre signature sound that shifts effortlessly from full-on rock to laid-back California cool. For his newly-inspired harvest of songs (to be released soon), McCulley continues to enjoy writing solo while having taken to co-writing with Max Butler (Red Meat, Chuck Prophet, Carlos Guitarlos), Duane Jarvis (Lucinda Willaims, Dwight Yoakam), Todd Herfindal (Single) and others.
Influenced by Paul Westerberg, Steve Earle, Wilco, Tom Petty, Elvis Costello and Neil Young, McCulley's style remains sunny and honest and always throws a hook. "I want the truth, ugly as it may be. Give me a story, not the big special effects."
McCulley's story begins in his original hometown of Fresno, CA, playing classic 70's-80's rock tunes with various bands. Accomplished in the studio on both sides of the glass, McCulley went on to write and record with county-rockers Big Blue Hearts (Geffen) and pop-rockers Sparklejet; and toured as a fiery sideman with jam band Sweet Vine (Columbia) and stone country singer Victor Sanz. As he grew tired of the infamous "lead singer syndrome," Rich decided to take control of his music and launched his solo career.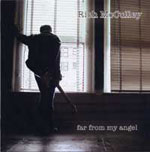 Rich McCulley's two self-released and primarily self-penned CDs: If Faith Doesn't Matter (2003) and After The Moment Has Past (2000) features McCulley on vocals, guitar, bass, mandolin, harmonica, a little piano, some lap steel. Playing more than 160 dates nationwide in 2003-04 supported by a strong college/AAA radio airplay, McCulley's current CD, "If Faith Doesn't Matter," has received critical acclaim and was recognized as a finalist in the 2004 DIY Music Festival competition.
Rich McCulley and his band have played the Louisville Mojo Music Fest (2004) and BMI/Nashville's Band Showcase (2004) as well as "Nadine Condon's Wild BMI Showcase" in San Francisco (2003), the 2003 Fairfax (CA) Music Festival, the Miles of Music Los Angeles showcase (2003), and has opened for James McMurtry, Wayne Hancock, Dave Olney, Chris Duarte, Mike Stinson and others. Solo, McCulley has performed with Duane Jarvis and Bob Delevante. He was featured on BMI/Los Angeles' "Circle of Songs" (2004) as well as BMI/Nashville's writer showcase (2003).
Links: