Clara Bellino
"Embarcadero Love"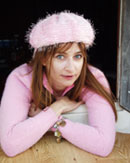 "Embarcadero Love": Clara's new release contains songs of the times on love, distance, war and hope, presented in a variety of moods and tempo. Songs include the French song,"Tout Est Fini", covers of Tom Waits' "Swordfishtrombone", Smokey Robinson's "What's Too Much" sung in Spanish, Marianne Faithful's "Come And Stay With Me", and a smokey sweaty version of Julie London's "Something Cool".
At the age of five, Clara Bellino found herself, with her family, on an ocean liner from France to New York, to what she had heard was the land of the "Cowboys and the Indians". She was so excited she jumped up and down on her bed and knocked herself out on the ceiling of the cabin. And she had no idea she was embarking on a rich traveling musical education and journey. Bellino would live in Massachusetts, camp across the United States, spend a year in California and return to her loving ground to grow up in a tiny village in the French Alps. By the age of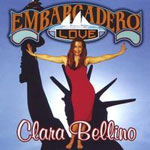 seven, thanks to her nomadic parents' voracious appreciation of music. she was exposed to many styles of music from around the world, from Coltrane, Fats Waller, Mahalia Jackson, War, Frank Zappa, Miles Davis, Johnny Cash to Leonard Cohen, the Beatles, Jacques Brel, Serge Reggiani, Léo Ferré, and classical. Clara shares some of those influences and roots on "Embarcadero Love".
San Francisco rock impresario / talent manager / photographer / art dealer Chet Helms has this to say about "Embarcadero Love" and Clara: "On this album, my friend and chanteuse Clara Bellino offers a delightful and eclectic collection of French, English and Spanish songs rendered in her soulful and sultry voice. There are echoes of Sade, Edith Piaf, Alanis Morrissette and numerous other blues, rock, jazz and europop influences. Clara blends them seamlessly and makes them her own. Enjoy... Henceforth Clara Bellino will no longer be known as a French chanteuse but as a freedom singer!"

A native of Paris, Clara graduated from the French Music Conservatory, where she studied classical piano and guitar. Bellino then moved to the United States, became a citizen, and now resides between San Francisco and Paris. Between stints of film, TV, print and voice-over work, Clara developed her music while playing along the California coast with various musicians she called Flying Monkeys. After a lead role, as an aspiring singer, in the Lucy Phillips film Steal America, Clara toured the Alps with one of her bands, which led to their performing at the Winter Olympics in her hometown of Albertville.
Track listing:
1. Tout Est Fini
2. Swordfishtrombone
3. Goodnight Baby
4. What's Too Much
5. Peaceful Solution
6. Something Cool
7. Game Up Bigger Pickle
8. Come And Stay With Me
9. Potential Criminal
10. Big Picture
11. Game Up Bigger Pickle (Radio Edit)
12. El Crepusculo
Links: