Roky Erickson & The Aliens
"Don't Knock The Rok"
(Norton Records)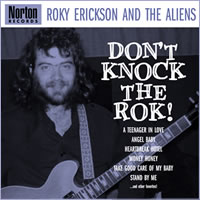 These rehearsal tapes from 1978 reveal Roky and the Aliens in a very loose and playful mood. Jamming and learning fifties rock and roll classics by Leiber & Stoller, Dion, Booby Vee, and Doc Pomus , mixed in with some pretty great originals, this collection was the brainchild of Norton Records' Billy Miller. When he first heard a few demos of Roky singing "Angel Baby" and "Hushabye", he was determined to put out a collection of Roky singing cover songs,…if only there were enough of them to comprise an album.

Enter Craig Luckin and Orb Productions, and their vault of unheard gems, including these tapes from the Creedence Clearwater Revival rehearsal studio in Berkeley California , where Roky and the Aliens were holed up on a steady diet of hamburgers and Buddy Holly. These rehearsals were meant to prepare the band for the upcoming "Evil One" recording sessions, but the band couldn't resist showing their influences and hearts on their collective sleeves. Listening to these recordings, it's easy to hear the genesis of songs like "I Walked With The Zombies" and "Starry Eyes."

This record only could exist on Norton. The label flaunts it's record collector/fanatic identity like no other. Picture sleeve 45's and double vinyl gatefold sleeve, in addition to the cd release. The album is a complete mashing of Roky & The Aliens with the Norton Records garagabilly aesthetic. "Don't Knock the Rock" (the title that Billy chose, but not to be confused with the biography of the great Cleveland Indian, Rocky Colavito, written by Gordon Cobbledick) is maybe mostly for Roky Erickson fans and completists, but it's got some tracks that also could stand alone strong; just check out "You Drive MewCrazy" and "Bumble Bee Zombie" for a totally satisfying treat.
Here's the complete track listing:
1. A Teenager In Love
2. Angel Baby
3. You Drive Me Crazy
4. Stand By Me
5. Heart-strings
6. Untitled
7. What To Do
8. You're The One
9. Bashful Bob
10. One Last Kiss
11. Take Good Care Of
My Baby
12. Things That Go Bump
In The Night

13. Wake Up To
Rock and Roll
14. Can't Be Brought Down
15. Money Honey
16. You're The One
17. Love Is Strange
18. True Love Ways
19. You're The One
20. Our First Kiss
21. Heartbreak Hotel
22. Bumble Bee Zombie
23. Hushabye

Links: