Reverend Horton Heat
Live and In Color
(Image Distribution)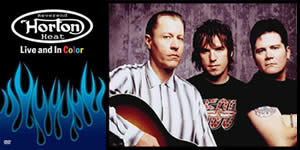 Known for his live shows, the Reverend Horton Heat will be treasured on this live concert DVD by legions of hipsters, greasers, punks, metalheads, skaters, cowboys and girlie-girl fans who pledge allegiance to the man and his music! The good Reverend rocks the hell out of his modern-day rockabilly, playing it as if it were the hardest of punk, yet without any of the self-conscious trappings of either genre.
Recorded January 31, 2003, at Deep Ellum Live, Dallas, Texas. This live concert performance was produced and directed by Mike Drumm for Music Link Productions, and is distributed by Image Entertainment, the largest distributor of music dvds in America.
Links:
Amazon Reviews:
First off, let met explain that this is by far the best musical DVD experience money can buy! Picture clarity is superb...camera angels crazy...and Surround sound is awesome!!!! Now with that being said....GET OFF YOUR ASS AND BUY THIS DVD IMMEDIATELY, because they rock like no other band...Jim "Reverend" Horton Heat is the best guitarist/entertainer that I have ever witnessed! The man is a frickin' legend...end of story...and Jimbo on Bass, and Scott Churilla on drums, is the most frantic paced live show ever witnessed on a stage...this is by far the best money I ever spend on a DVD...please go see these guys live and in person! They will not let you down! AWESOME!
(Reviewer: A viewer from Gallatin, TN United States)

What an awesome DVD. The picture quality: excellent. The sound quality: excellent -- and be sure to turn up the bass for maximum enjoyment! I've been to (only) two Rev. Horton Heat concerts, and I thought this DVD successfully captures the fun and spirit of their live performances. (Of course, nothing compares to actually being in the crowd.) The set list menu allows you to flip around to your favorite songs. Extras include two entertaining and informative segments featuring interviews with Jim Heath, Jimbo Wallace, and Scott Churilla.
(Reviewer: Mz. M from NY)

Some RHH fans have been waiting close to a decade for something like this. The band interviews are nicely done and have a very genuine quality to them. The audio is amazing with a powered subwoofer. The picture is just gorgeous... digital video all the way.
(Reviewer: A viewer from MO)

I've attended more Horton Heat shows that I can count over the last 11 years, and this DVD really captures the crew in fine form. If you've only seen them perform on tv shows, this disc far surpassess their appearances on Conan etc... sound quality is great, and it still has a bootleg feel to it but with pro camera shots and superb audio. (Reviewer: virtualkisscom from Dallas, TX USA)