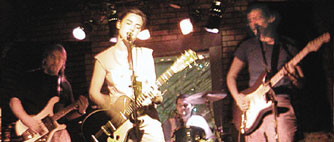 Waycross
Aren't We the Lucky Ones
The soundtrack to an epic film noir may best describe that which is Waycross. This San Francisco four piece has been delighting and confounding audiences with a brand of rock that is as devastatingly dense as it is ethereally harmonious. The best contrasts - loud and quiet, sweet and bitter, high and low - are all taken up and blended in Waycross' suite of haunting and potent songs. Some of them happy, most of them heavy hearted, all of them liable to affect you long after the tune fades. Waycross is unusual and enigmatic, and their new CD is a beautiful and dark testament of a band that is far from simple or easy to categorize.
Waycross recently completed a successful west coast tour supporting all dates with The Mekons, and plans to tour more in the spring. Currently, they have been playing increasingly popular shows at The Great American Music Hall, The Bottom of the Hill, The Eagle Tavern and other fine local venues in SF.
"…haunting and beautiful, mesmerizing richly layered sound. Often their songs start out quiet and mournful, creating a soft, lilting sound, and slowly build to a crescendo of textures, with thick, thudding bass lines and ricocheting guitar tones. Vocalist Caroleen Beatty's voice is astonishing, emotive and revealed. The lyrics are rich and poetic and downright literary. Her writing is powerful and dark, and at times chills me to the bone. Waycross is worthy of far more attention." -- Don Baird, San Francisco BAY TIMES
"Waycross are emotive, intense, and fully harmonious. Their 'Julip' song is downright gorgeous…" -- Greg Heller, BAM Magazine
Top 10 of 2002: #8, Waycross "Aren't We The Lucky Ones". "The second record by locals Waycross is a realization of sorts. Caroleen Beatty's great vocals, Doug Hilsinger's great production work, and solid support from the band shows what you can do recording in your living room in 2002" -- Victor Krummenacher, San Francisco Bay Guardian
"Waycross is Pink Floyd and Black Sabbath powered by girls... The players, several SF music veterans, combine to form that certain mixture — of lyrical profundity, musical depth, and good old wall-of-sound aesthetic — that links the body to the brain without letting one rule the other. It's the kind of songwriting that sticks… Sunshine Haire's dramatic use of the slide guitar in many of the songs sets the scene for the drama, Doug Hilsinger's bass sends the weak-kneed to the back of the room, and Bruce Ducheneaux's drums keep them coming forward. Waycross evokes great melodies and beautiful vocal harmonies without forgetting to throw in a kickass guitar." -- Jill Stauffer, SF WEEKLY
"Voice of the Year: Caroleen Beatty of WAYCROSS. When she opens her mouth, sound swells forth with the authority of an orchestra ascending in unison at the conductor's opening cue." -- Ian Brennan, ZERO Magazine
"I've been listening to it all weekend, it's been making me feel happy and sad all at once… like eating cake!! Complicated! ALSO, you'll be happy to learn it's an excellent accompaniment to HOT SEX ACTION !! (that's right!) So anyway, thanks for rocking, I'm listening!" - in an email from E
The new CD Aren't We the Lucky Ones has been self-released so far only in San Francisco, July 2002, and includes a new twist on the classic Blondie hit, "Heart of Glass." This is the second full length outing for the group, following their self-titled, self-released debut Waycross, selling 2,000 copies locally.
Waycross is currently seeking distribution and label support.
Links:
For more information contact: doug@saucefaucet.com or xgeorgia@yahoo.com
Sure, go ahead and visit www.unitedmeat.com and www.saucefaucet.com while you're at it!