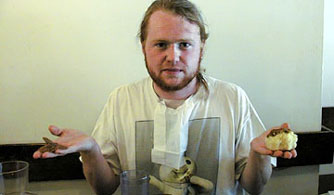 Sole
Selling Live Water
(Anticon)
Sole is the alias of the experimental hiphop label, Anticon's owner and featured artist, Tim Holland. During the past year, Sole and other members of the Anticon collective have toured Japan, Australia, Europe and the USA. The label has recently entered into a new European distribution agreement with Southern Records in the UK.
Selling Live Water is the followup to Sole's prior solo album, Bottle of Humans, which was preceded and followed by numerous side projects featuring other members of the Anticon collective. His clever rhymes are matched by solid production from Telephone Jim Jesus, Jel, and Odd Nosdam. Sole's lyrics articulate like no other a cynicism and disgust with the current state of affairs. Songs like "Salt on Everything," "Tokyo," "Pawn in the Game Parts 1 and 2" and "Ode to the War on Terrorism" are particularly thoughtful and a bit more serious than most content found in current hiphop music, with subjects touching upon hallucinogenic drug trips, propaganda, and politics.
Born and raised as a live poet in portland, maine (trained to kill by NWA & organized konfusion tapes...) Sole moved to the bay area in '98 and worked as a corporate IT guru for dot coms and consulting firms only to retire in late '99 to be a "rapper." When he's not "answering his critics", Sole spends his time recording, spilling ice coffee on himself and arguing on the phone with the record industry, in hopes of paying off old debts from the now-bankrupt 45 below records. He has long-term plans of eventually buying a zepplin to throw record release parties on, and living with a girl. Maybe Sole is too sarcastic and no one will ever appreciate his humor. Maybe Sole is wrong. Maybe everything isn't a big joke (and that the joke is on him).
"Too bad the world don't rhyme and teachers like us get paid like the homeless." Sole is a dissatisfied hip-hop fan gone berzerk and despite any cynicism and negativity found in his music, he tends to be kind to all walks of life (even wack mcs and sucker djs...).
"I applied for Howard Hughes and live off less then minimum wage..."
Links:
Track listing:
1 da baddest poet
2 shoot the messenger
3 salt on everything
4 i hope you like my stupid painting
5 respect pt 3
6 tokyo
7 plutonium
8 sebago
9 slow, cold, drops
10 pawn in the game pt 1
11 pawn in the game pt 2
12 the priziest horse
13 teepee on the highway blues
14 selling live water
15 ode to the war on terrorism
Discography:
Partners in Rhyme: "Time to Wreck Shop" ('91)
L.O.C.: "Cops Ain't Shit to Me" ('91)
Northern Exposure: "..and Unpaid Bills" ('93)
Live Poets: "Sole" 12" ('94)
Live Poets: "Whats It All About" CD ('96)
Live Poets: "Respect" 12" ('97)
Sole: "Music Without a Face" tape ('98)
Sole&Moodswing9: "Banquet of.." 12" ('98)
Sole: "Bottle of Humans (bootleg)" CD ('99)
Deep Puddle Dynamics: "I am" 12" ('99)
Sole: "Bottle of Humans" 12" ('99)
Deep Puddle Dynamics: "The Taste.." LP ('00)
Sole: "Bottle of Humans" LP ('00)
Sole: "Learning to Walk" CD ('00)