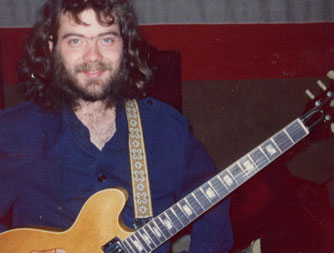 Roky Erickson
The Evil One (Plus One)
Double CD
(Sympathy For The Record Industry)
This, one of the greatest albums ever made, is the first of many Roky Erickson albums soon to be reissued by Orb Productions, the label owned and operated by Craig Luckin, who also managed Roky, the Aliens, and the Explosives in the seventies and eighties.
There are many Roky Erickson albums but "The Evil One" originally released by CBS Records in Europe in 1980 was the first of them and, many would say the best." This re-issue also includes the five additional songs contained on the 1981 US release of "The Evil One" on San Francisco's 415 records and thus contains all of the Roky material from these great recording sessions produced by Creedence Clearwater Revival member, Stu Cook, for Orb Productions from 1978 to 1980.
For the first time included on this reissue are additional bonus tracks including earlier versions of mine mine mind, two headed dog, and click your fingers applauding the play previously released on vinyl by France's Sponge Records in 1976. This record represents one of Sympathy's proudest and most important acheivements and "The Evil One" definately has a deserved and secure place among rock's brightest (and genuinely scary) moments.
Track Listing
Disc 1
1. Two Headed Dog
2. I Think Of Demons
3. Creature With The Atom Brain
4. The Wind And More
5. Don't Shake Me Lucifer
6. Bloody Hammer
7. Stand For The Fire Demon
8. Click Your Fingers Applauding The Play
9. If You Have Ghosts
10. I Walked With A Zombie
11. Night Of The Vampire
12. It's A Cold Night For Alligators
13. Mine Mine Mind
14. Sputnik
15. White Faces
Disc 2 (plus one)
Recorded on August 20th, 1979
"The Modern Humans Radio Show."
1. Click Your Fingers Applauding The Play
2. Modern Humans Show
3. It's A Cold Night For Alligators
4. Modern Humans Show
5. Creature With The Atom Brain
6. Modern Humans Show
7. The Night Of The Vampire
8. Modern Humans Show
9. White Faces
10. Bloody Hammer
11. Modern Humans Show
12. Sputnik
13. Two Headed Dog (Red Temple Prayer)
14. - 17. Modern Humans Show
18. Mine Mine Mind
19. Modern Humans Show
20. I Walked With A Zombie
Links: