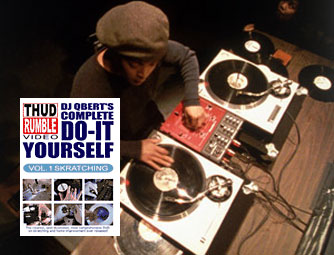 DJ QBert:
How to Skratch DVD
(Thud Rumble)
Available at: DJ QBert's Web site
Let DJ Qbert school you in the art of skratching (and home improvement). The DVD features over 25 skratches, with FOUR camera angles, multiple audio tracks (isolated beats & skratches, or both), Q&A battle sessions, and step-by-step tips and secrets. This DVD is totally loaded, including the following:
Multiple Video Angles. See every skratch from 4 camera angles! All clips loop–you decide when to go on. All lessons taught by QBert.
Multiple Audio Tracks. Mixed Audio on track 1, Skratches Only on track 2, and Beats Only on track 3. Pick the track that's right for you.

Features Over 25 Skratches at all skill levels. Includes: Babies, Marches, Drags, Chirps, Crabs, Lazers, Waves, Needle Dropping, Flares, and more!

Practice Your New Skills in a Q & A battle session with Spy-D, The Deck Demon, Lamb Chop, and more. Each battle becomes progressivly more difficult and uses the skratches you've just learned.

Tips and Secrets Section. Step-by-step video shows you how to setup your gear, from balancing your tone arm to skip prevention techniques. Learn how to fix a leaky pipe, count bars or make an emergency slip mat.
Links: