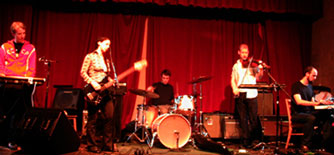 Bee and Flower
What's Mine is Yours
(Neurot)
Bee and Flower's cinematic, intimate music reminds one of a psychological and emotional rollercoaster ride. It's dynamic and sensuous, but it has a beautiful sort of madness at its core. Carefully orchestrated instrumentation - violin, piano, lap steel, bass, drums, guitar, and glockenspiel - braids together texture and melody with hushed, smoky vocals; the sounds extend from the delicately minimal to dense ominous crescendos that stay with you long after the music has stopped.
Singer-songwriter, multi-instrumentalist, composer, engineer, and self-driven D.I.Y'er, Dana Schechter moved to NYC from her hometown of San Francisco in June of 1997. She joined Michael Gira's Angels of Light in April of 1998 (albums include How I Loved You, We Were Alive and Everything is Good Here/Please Come Home). Shortly thereafter, Schechter began seeking musicians for her then-woodshedded songwriting project. Within 2 months, Bee & Flower was born in Brooklyn's Williamsburg area: Dana (on bass and vocals), Ani Cordero on drums (later replaced by Jeff Conaway), Rod Miller on keyboards, Lynn Wright on guitar & lap steel, and Jon Petrow on violin & glockenspiel.
Since BEE AND FLOWER's first show in April of 2000, they've garnered critical praise and a growing NYC / Brooklyn fanbase. With no promotion or support whatsoever, BEE AND FLOWER received widespread college radio airplay in NYC. The first demo charted on WNYU for 4 months in 2001 and then again in 2002 with the pre-release of the full length CD. WFMU (NY-NJ) have also aired the new CD; and B&F were featured artists on NPR / WNYC radio show "Stretching the Song Form" in July 2002. The pre-release CD also ranked as a top ten seller at famous Kim's Records in NY's East Village for over 2 months -- again, with no promotion.
They've been described as "darkly beautiful" (New Yorker Magazine, January 2002); "tense, moody, atmospheric" (Village Voice, April 2002); "songs so well crafted they feel spontaneous" (WNYC/NPR, July 2002); and "a slow-moving, seductive morass of lyrical noise"
(Time Out New York, July 2000).
Coming in February 2003, BEE AND FLOWER's debut CD, What's Mine Is Yours was released on San Francisco label Neurot (owned/operated by the band Neurosis). What's Mine is Yours was recorded with legendary NY engineer Martin Bisi (John Zorn; Swans; Angels of Light; U.S. Maple; Sonic Youth; Cibo Matto, etc,) with additional studio work done by engineers Quentin Jennings and Doug Henderson. In 2001 B&F contributed a song to critically acclaimed CD This is Next Year - a Brooklyn-Based Compilation (Arena Rock Records, NY) showcasing Brooklyn's thriving music scene.
Links: