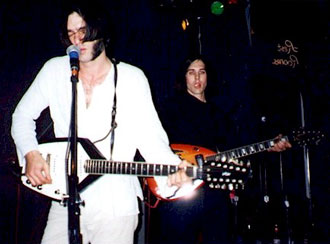 The Brian Jonestown Massacre:
Bravery, Repetition & Noise
(Bomp)
Another masterful dose of maximum rock and roll, mathematical pop and majestic psychedelia from America's greatest rock and roll band, on America's greatest rock and roll label, at greatest rock and roll record stores and mail order web sites everywhere!
Anton outdoes himself with an impressive mix of heavy riffs, glam rhythms, soul-searching love songs, and exquisitely orchestral pop music. The best just got better...
Songs include: Just For Today, Telegram, Stolen, Open Heart Surgery, Nevertheless, Sailor, You Have Been Disconnected, Leave Nothing For Sancho, Let Me Stand Next to Your Flower, If I Love You, (I Love You) Always
Links:
Quotes
"It's about love and fluids"