Bob Sarles Produces dvds for
Jefferson Airplane and
John Lee Hooker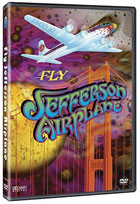 Bob Sarles of Ravin Films has produced, directed and edited programs for most of the major broadcast and cable networks, has directed films which are on permanent display in the Rock and Roll Hall of Fame, Experience Music Project, and the STAX Museum of American Soul Music, and has directed music videos.
His relationship with the Jefferson Airplane and Hot Tuna go way back, having produced the JA episode of Behind the Music for VH1, and directed music videos and promotional films for member, Jorma Kaukonen. Most recently, Bob completed work on the Jefferson Airplane dvd, "Fly JeffersonAirplane", released by Eagle Rock Entertainment.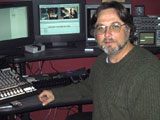 Focusing on Jefferson Airplane's 1965-1973 run, "Fly Jefferson Airplane" incorporates complete vintage performances with brand new interviews from almost all of the band members of the time, as well as others who were along for the ride. Bonus material includes interview outtakes from all the members, and a photo gallery of rare and never before seen photos from the Jim Marshall collection.
This incredible collection contains complete song performances from most of the best national television appearances by the band, including the following:
WHITE RABBIT (from Smothers Brothers Comedy Hour)
CROWN OF CREATION (from Smothers Brothers Comedy Hour)
LATHER (from Smothers Brothers Comedy Hour)
HIGH FLYING BIRD (from Monterey Pop)
SOMEBODY TO LOVE (from Monterey Pop)
THE HOUSE AT POONEIL CORNER (from Go Ride The Music)
VOLUNTEERS (from Go Ride The Music)
PLASTIC FANTASTIC LOVERS(from Go Ride The Music)
BALLAD OF YOU & ME & POONEIL
(from Night At The Family Dog)
IT'S NO SECRET (from Bell Telephone Hour)
MARTHA (from Perry Como Special)
"John Lee Hooker – Come See About Me" is the definitive dvd collection of clips of the late great bluesman, was produced by Bob Sarles and Christina Keating in association with Eagle Eye Media for Eagle Rock Entertainment. The DVD will be distributed worldwide by Eagle Vision, a subsidiary of Eagle Rock Entertainment.

The dvd includes vintage footage with the Rolling Stones, Eric Clapton, Van Morrison, Ry Cooder, Bonnie Raitt, Van Morrison, Foghat, John Hammond, as well as performance footage throughout his career, TV appearances, and vintage interview clips. Songs featured include features the songs "Boogie Chillen'," "Boom Boom," "Bottle Up and Go," "Serves Me Right To Suffer," "I'm Bad Like Jesse James," interviews with Hooker, members of his family, and fellow musicians alongside filmed performances from 1960 to 1994.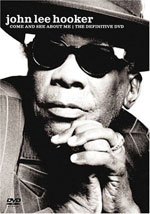 The late John Lee Hooker was an icon of American blues music. Merging a spare, skeletal guitar style and unusual song structures with a propulsive sense of rhythm earned him a reputation as "the King of the Boogie." Hooker's music provided a stylistic bridge between the rural blues of the '30s and the raw, gutbucket electric sounds that emerged in the '50s and '60s. His deep voice, distorted guitar, and that foot that tapped away like an out of control metronome.

Post production of the program took place at Ravin' Films studio in San Francisco, with final video mastering and video restoration at Video Arts, SF. A new stereo and 5.1 surround audio mix was conducted by Samuel Lehmer, a frequent Ravin' Films collaborator, at facilities in Los Angeles.
Links: