Report from Sundance 2005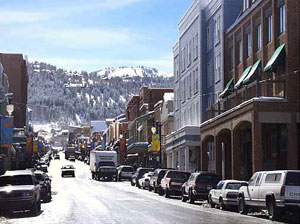 I attended Sundance Film Festival in Park City, Utah, for the third time in four years. Four or five days of nonstop running from one screening to the next party to the next music showcase works well for me, especially on this weekend in between the NFL Championship games and Super Bowl weekend. Seems to have become an annual pilgrimage that serves a number of purposes.
First of all, it's a chance to stay on top of the world of independent film (to the extent that it is still represented by this mother of all American film festivals), and get a great forecast of films and the people behind them for the coming year. Secondly, it's a chance to show my support for the filmmakers, musicians, and others from the Bay Area who make the trek each year, and to make contacts within this industry which is still somewhat new terrain to my legal practice. The more that my music law practice integrates elements of film and television, the happier I am, especially considering the sorry state of the music industry, the superiority of dvds to dvds as a consumer product, and my instant attraction and knack for the festival environment.
My longtime friends and clients, the Mermen were at Sundance for the second year in a row. This year, bandleader Jim Thomas scored a feature dramatic film entitled, "Steal Me", directed by Melissa Painter. I helped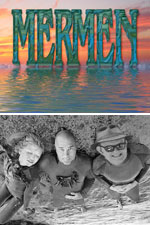 Jim with the negotiation of his agreement regarding the film, and took the band up on their offer to stay with them at bass player, Jennifer Burns' mother Linda's log cabin outside of Heber, 20 miles north of Park City. Staying with the band and their friends was great, and made for a nice base of operation as well as some great conversation around the kitchen table each morning. I'd previously traveled to the Oahu with the band a couple of years ago when they played on the North Shore, and last year they played a big party at Sundance for Technicolor. Their brand of psychedelic surf-influenced instrumental rock fits well in films as well as nightclubs, and they know their way around Park City and its music venues well. Their music is an essential part of the soundtrack of my life, and their friendship fills my need to have a band to love, and a professional relation of which I am proud.
It would be hard to talk about Sundance without mentioning the wonderful daily music showcases set up by ASCAP in a downstairs club at the top of Main Street. Kudos to Loretta, Sophia and Tracy at ASCAP for another great series of performances, the highlights of which for me were: (1) a solo performance by former Four Non-Blondes leader Linda Perry, playing hits she had written and produced for Pink, Christina Aguilera and others. Great to see hugely successful former SF residents Linda and manager Kat Sirdofsky for the first time in years; (2) an awesome two-set night time performance by Yo La Tengo, following and featuring a guest performance by Daniel Johnston; and (3) great sets by Nelly McKay, Mary Gauthier, Suzanne Vega, Glenn Phillips with Sara and Sean Watkins of Nickle Creek, Midnight Movies, and And you Will Know Us By The Trail of The Dead.
There were also lots of other Bay Area folks in town. I stopped by to see Cake perform, and got a chance to hang backstage before their show with client Xan McCurdy and soundman Bobby Mack, and their new manager and old friend Tom Sarig, who I also caught up with at the BMI party earlier the same night. I also ran into Michael Franti and his manager Catherine Enny at the airport on our way back to the Bay Area. Michael's film about his journey of peace and music to Iraq and Israel, "I Know I'm Not Alone" premiered at Slamdance. It is hard not to appreciate the intent and message behind this documentary from a noted pacifist during a time of war and oppression. I gave a ride home from the airport to Catherine and her husband, John, and received a dvd copy of this important video document. Check it out when you get a chance. I'm presently consulting with Catherine regarding the distribution of the film and the completion and placement of the new Michael Franti album recorded with Sly and Robbie. More news to come on that one.
As for the films which I sought out while at Sundance, my priorities were documentaries with musical subjects, and films by Bay Area filmmakers. The films which I saw and loved most were:
"The Devil and Daniel Johnston" - An extraordinarily well-crafted documentary about the Austin based singer/songwriter and his battle with depression and mental illness. Culled from hundreds of hours of his father's home movies, Daniel's audiocassette journals, and loaded with images from Daniel's own drawings, this was the first screening I say the night of my arrival. I was thoroughly blown away. I saw the world premiere in the same theatre where I had seen the premiere of "Dig" exactly one year before, and came out of the theater withan equal amount of enthusiasm and appreciation for the film which I had seen. Congratulations to Jeff Feuerzeig (who won the Grand Jury prize for documentary director), producer Henry Rosenthal , attorney George Rush, and to Brooke Wentz of the Rights Workshop, all Bay Area residents. And thanks for the admission to the screening, the gallery party the next day, and the wonderful live performance by Daniel Johnston. One of the absolute highlights of Sundance.
"The Aristocrats" – This unique documentary by Penn Gillette and Paul Provenza is indeed like no other film ever made. It is in fact a 90-minute story about a dirty joke, not just any dirty joke, as told by 105 comedians, most notably George Carlin, the Smothers Brothers, Paul Reiser, Gilbert Gottfried, and others, explaining, telling and improvising on an inside joke that has been around for fifty years, which starts off with a set up about a guy walking into a talent agent's office, and the desciption of the act, …and the punchline. No telling of the joke is the same, as each comic improvises in the same manner as Coltrane and Miles may have once treated a jazz standard. The resulting film was amazing. The world premiere which I witnessed became the source of continual references the rest of our stay at the festival, and the film featured many comedians who I knew well (Dana Gould, Bobby Slayton, etc.) and some who I had recently worked with (Lisa Lamponelli, whose Comedy Central special was taped the preceding week at the new Improv in Holloywood, Fla. by my client Mike Drumm).
Other music documentaries that I missed at Sundance: " New York Doll" (the story of the Dolls bassplayer, Arthur "Killer" Kane); "Romantico" (SF's Mark Becker directed this touching story of a Mission district mariachi singer); and "Stranger; Bernie Worrell on Earth" ( a 40-min documentary about the P-Funk organ player screened at Slamdance) which I saw the following week at the Roxie Theater as part of the SF Independent Film Festival.
This is the year of the documentary on dysfunctional musical artists. In the wake of "Dig", hedre comes great films on Daniel Johnson, Roky Erickson, Wildman Fisher and Townes Van Zandt, all screened at the SXSW Film Festival this year. Also, look for the release of the fine Jeff Buckley documentary by Nyla Adams entitled, "Amazing Grace", one of the truly fine films that I've viewed recently.