Alex Chilton Licenses Back
Catalog to Rykodisc
One of the most enjoyable and fulfilling aspects of my role as a music lawyer is the opportunity to represent recording artists whose work I've always enjoyed as a record collector and music fan, and the chance to help hook up artists and labels for the purpose of reissuing their back catalogue. In the case of Alex Chilton, it was a particularly satisfying experience, having known Alex as a friend for years, and developing a work relationship as an outgrowth of that friendship.
Alex, for those who are not familiar, has a career that spans forty years, first as the youthful lead vocalist of the teenage Memphis pop/soul group the Boxtops (whose hits included "The Letter", "Cry Like a Baby", and "Soul Deep"), and later in the mid-70s as a member of legendary underground British pop influenced rock band, Big Star ("September Gurls", "In the Street", etc.), whose cult status is well documented.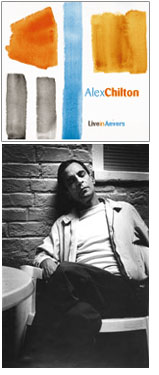 In addition, however, Alex has released numerous albums throughout the eighties and nineties that showcase his diverse influences (rock, soul, lounge, jazz, etc.), love for obscure cover tunes, great songwriting and guitar playing, and unique vocal interpretations.
Rykodisc will release eight albums of Alex's solo work, including the following: High Priest, Feudalist Tarts, No Sex (ep), Cliches, Blacklist, and Set (also known as "Loose Shoes and Tight Pussy"), most of which have never been released in the US on cd. Rykodisc had previously reissued several Big Star albums, and is well prepared to market Alex's back catalog; they are about to release a new Big Star album recorded last year at Memphis' Ardent Studios with the current lineup of Alex, Jody Stephens, and Jon Auer and Ken Stringfellow of the Posies.
The first album to be released by Rykodisc from the licensed masters of Alex's solo work will be a new live recording of a radio broadcast from Anvers, Belgium, recorded in January of 2004, which will include the following track listing:
1. Ah Ti Ta Ti Ta Ta
2. In the Street
3. 634-5789
4. Hook Me Up
5. Il Ribelle
5. Bangkok
6. Shiny Stockings
7. Claim to Fame
8. Sonata Grave
9. Autumn in New York
10. Sick and Tired
11. It's Too Late to Turn Back Now.
Links: