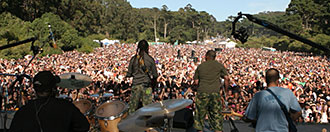 Music Link Productions Teams With Michael Franti and Guerrilla Management to Document the 2005 Power To The Peaceful Festival in Golden Gate Park
On Saturday, September 10th 2005, visionary musician, filmmaker and human rights worker, Michael Franti along with his band, Spearhead and Guerrilla Management presented the 7th Annual 911 Power to the Peaceful Festival (PTTP) at Speedway Meadow in Golden Gate Park, San Francisco. Over 100,00 people gathered on a perfect sunny day in which music, politics and a good time atmosphere all shared equally in this extraordinary annual event.

The entire event was videotaped by Music Link Productions in order that the event and its message can be captured for purpose of creating an high definition television special and dvd , including all of the musical performances, speakers, djs, eco-village, vendors, massage and yoga areas, and open air art gallery. The intent was to create a special which would translate the meaning behind the entire event, not just another concert video production.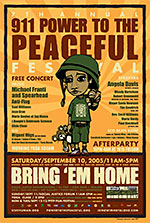 Now in its seventh year, PTTP is an annual series of free, outdoor music and arts festivals with a social justice message bringing together international musicians, local artists and renowned speakers in a large festival atmosphere. The first festival drew over 6,000 people, but has expanded to be one of California's largest festivals of its kind with over 50,000 attendees last year. This year, the San Francisco Mayor's Office will proclaim September 10th Power to the Peaceful Day at the festival. This year's theme, Bring 'Em Home, seeks to remind the public that the best way to support American troops abroad is to bring them home today.

Inspirational performances at PTTP have included such diverse speakers and artists including Amy Goodman, Dennis Kucinich, Alice Walker, Ram Das, Digital Underground, Talib Kweli, KRS-One, The String Cheese Incident, Lyrics Born, Me'Shell Ndegeocello, John Butler Trio, Krist Novoselic, and Jello Biafra. This year's music line up included Michael Franti and Spearhead, Saul Williams, Anti-Flag, Zap Mama's Marie Daulne, J-Boogie's Dubtronic Science and Glide Choir. Speakers include Angela Davis, Woody Harrelson, Robert Greenwald (filmmaker - Outfoxed, Wal-Mart), Rev. Cecil Williams (Glide Church), Paul Rieckhoff (opTruth.org), Tim Goodrich (Iraqi Vets Against The War), and DJ Miguel Migs.

As festival organizer and Spearhead frontman Michael Franti explains the history of the festival, "As a brainstorm of LA-based organization, Artist Network of Refuse & Resist, Rage Against The Machine, artist Robbie Conal and Franti, the festival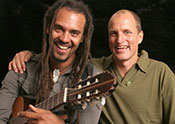 began in 1999 as an international day of art and culture with events in NYC, LA and San Francisco in support of political prisoner Mumia Abu-Jamal. The name and date 911 were chosen to call attention to the emergency status of Mumia's impending execution. Inspired and wanting to continue the movement of music, art and social justice, Franti adopted the moniker '911' and expanded the event in 2000 to show support for all prisoners on death row and to speak out against the exponential growth of militarism and the prison industrial complex."

Noting the significance for more recent global political events, Franti says, "In 2001 the day of September 11th took on a wider significance as a result of the tragic loss of life by the attacks of the day. The 4th and 5th events in 2002-2003 created a space for healing and compassion for ALL the people killed or displaced by terrorism and the war on terrorism and in 2004 PTTP brought out the issue of 'get out the vote' and 'stand up and be counted.'
In addition to the performers and speakers on the main stage, the festival features a zero-waste program using bio-diesel vegetable fuel for power, biodegradable flatware, water bottles and plates, recycle and composting bins, an open-air art gallery, earth-conscious vendors, massage and yoga, DJ dance floor, eco-village, kid's zone, bike coalition and a diverse array of social, environmental and political organizations tabling.
Links: