"Peter Ellenby to Release
Book of Rock Photos"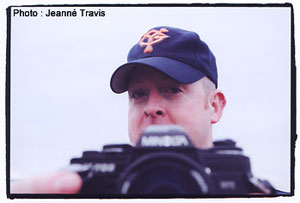 With an introduction by X singer, John Doe, and a companion cd music provided some of the more than 250 mostly alternative rock bands, the first book of photography by noted San Francisco rock photographer shall be published by Chronicle Books, with an anticipated release date in the first quarter of 2006.
Peter has been a man on the Bay Area alternative rock scene for the past decade. He has been the SF Noise Pop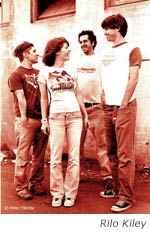 Festival photographer since its inception, and recently had a show of his work displayed at the Bottom of the hill during the 2005 festival. His work includes portraits of legends such as John Lee Hooker and James Brown, along side bands with whom Peter discovered in the early stages, including for example, Grandaddy, Bright Eyes, Rilo Kiley, Death Cab for Cutie and Pinback. With a great ear for music and a commitment to the local rock scene, he has been a fixture, and a positive element to the music and images which he so actively documents.
Chronicle Books, the company which publishes such notable music books as "The Beatles Anthology" and the recent poster art book, "The Art of Modern Rock" is one of the most successful book publishers in America.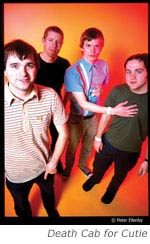 Previously a subsidiary of the San Francisco-based Chronicle Publishing Company, Chronicle Books became an independent entity in early 2000. For many years the company specialized in local history and regional travel titles, as well as books from its then sibling company, The San Francisco Chronicle. In the late 1970s, Chronicle Books turned its focus to illustrated titles and began publishing the visual books that have since made its name. With a list that includes contemporary fine art titles as well as design, architecture and photography, the company's philosophy was to publish books that were as affordable as they were beautiful.
Here's how Peter describes himself and his work:
"I've been a camera addict and darkroom recluse since 1985 - This is my story (sort of). I have a pretty unique outlook on life, and I think it's reflected in my images. My images are lively, like a good band, and convey a sense of intimacy with the musicians and their music. It's a frozen moment of their lives, not a staged sterile slab. I also enjoy a bit of still life photography. I'm currently the Senior Photographer for the Bay Area magazine DIW. My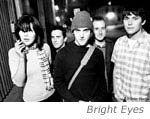 work has been published in countless magazines and newspapers worldwide. I've worked for many labels and bands producing album art and promotional materials. My clients include Vagrant, Sub Pop, Amazing Grease, Matador, DIW, Velocette, Tiger Style, Spin Art, Dreamworks, Artist Direct, Barsuk, The Arena Rock Recording Company, Jackpine Social Club, Guitar World, the San Francisco Noise Pop Festival, and many local San Francisco Bay Area bands. I shoot in 35mm, 6x7cm & the Holga/Woca 120 format."
Links: