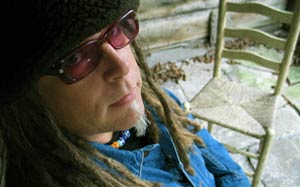 Artist Profile: Papa Mali
MALCOLM WELBOURNE's personification "PAPA MALI" is a salute to his home territory of north Louisiana. Malcolm was born in Mississippi and raised in Shreveport, where absorbing the blues along Bayou Pierre was just as much a matter of course as chasing the mosquito fogging truck with friends -- and equally intoxicating. He spent his summers with grandparents in New Orleans digging that city's rhythm (and blues) and after hearing the Wild Tchoupitoulas and the Meters on the streets of New Orleans at age eleven, he developed an early and ongoing attachment to Crescent City funk. It was Burning Spear's band that gave Malcolm the nickname "Papa Mali" years ago while touring with Spear and the Killer Bees.
According to legend, Thunder Chicken is the moniker for a kind of fortified wine that helped Malcolm 'Papa Mali' Welbourne evolve, from his early years as a crazy music-freak kid with a six-string slung over his shoulder to the swamp-funk-hoodoo-slide-guitar-choogler he's become. Along with his smoking band, he concocts a back-alley brand of Louisiana parade sass that meets bluesy Austin, Texas grit in a gumbo of the deeply greasy variety; it becomes something joyfully lusty and intoxicating in its own right.
Although Papa Mali is a solo artist (performing on stages as diverse as Tipitina's and Bonnaroo), slide guitarist, singer/songwriter and acclaimed producer (Lavelle White, Ruthie Foster, and Omar & The Howlers), he can also be seen collaborating with some of the most respected musicians on the scene today, including his longtime drummer extraordinaire Robb Kidd, Cyril Neville, Galactic, MOFRO, Robert Walter, Otis Taylor, George Porter Jr, Johnny Vidacovich, Anders Osborne, Jesse Mae Hemphill, Kevin Russell, and Double Trouble. Papa Mali's long awaited second album, slated for release this year, will feature Big Chief Monk Boudreaux of the Golden Eagles, Henry Butler, Kirk Joseph, Victoria Williams and Chuck Prophet
When it comes to Jazzfest in New Orleans, Papa Mali is one busy guy. Rather than try to paraphrase his exploits, here's the straight dope from the horse's mouth: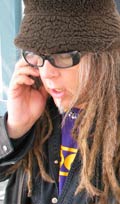 Well, well, well...
Hard to believe, but it is THAT time - the time of year when thoughts turn to oyster patties, crawfish sacks , soft-shell crab po-boys...and funky, soul-infused, R&B, gospel, blues, jazz and rock n' roll as can be found in only one location on planet Earth. That's right cuz, 'cause before you can say 'andouile', Jazzfest '06 is wrappin' itself all over 'The City That Could' like a honeysuckle vine on a chain link fence. To say that New Orleans has had a rough year is like saying that Muhammed Ali was a boxer. But you can't keep a champion down when the whole wide world knows they are The Greatest.
I am officially kickin' it off this weekend with a performance at Earth Jam in Salem, MO on Thursday 4/20, followed by two shows Friday and Saturday 4/21 & 22 at the Roxy in Atlanta with my musical soul bruthas from anutha, Galactic ( OK, so I am a week early for Jazzfest...I figure it will take me at least a week to come down when it's all over, too ).
Then things really get heated up the following Thursday 4/27, at world famous Tipitina's, again with the mighty Galactic headlining and me and my band opening. Hold on tight, y'all....we rollin' now!
Friday and Saturday 4/28 & 29, I will see you at the fairgrounds - no I am not playin' the Acura Stage, Congo Square, Blues Stage, Lagniappe Stage or the Jazz Tent ( can somebody...anybody... tell me... what a homeboy got to do? )...but you can bet I will be eatin' some Crawfish Monica, artichoke/oyster soup and sweet potato pone, whilst I soak it up - the vibe, the memories both old and new, the heavenly aromas and the pure, unadulterated fonkiness of it all. I can't wait to see Bob Dylan and Dr. John back to back.
Sunday 4/30 is a show I am really looking forward to: Fog Fest(part I) at Preservation Hall (early show) w/JJ Grey and George Sluppick (MOFRO), Robert Walter and yours truly - performing ' selections from the southern soul songbook'. This is the first show of Fog Fest. (More on part II later in this entry.) Buy tix here (early show) and here (late show).
Tuesday 5/2 at 8pm you can catch me playin' an instore at Louisiana Music Factory. I'd best be careful not to spend all my money there - you know I have the malady known in some circles as 'Vinyl Compulsive Disorder'.
Wednesday 5/3 I'll be rehearsing for what promises to be an unforgetable night in this lifetime of music:
Fog Fest Part II at DBA on Thursday 5/4, An Evening With Eddie Bo, Papa Mali, Kirk Joseph and Robb Kidd with a very special guest appearance by Big Chief Monk Boudreaux!!! Now just in case some of you out there DON"T know who Eddie Bo is...where do I begin? Piano/keyboard virtuoso, New Orleans legend, figurehead and singer on par w/Fess, Booker, Dr. John and Toussaint ( all of whom have worked with and/or been influenced by Eddie Bo). Producer of some of the funkiest music to ever come out of the funkiest city ever. Hook and Sling. Check Mr. Popeye. And whilst you're at it, ya better Check Your Bucket. And ask somebody who has a clue ( Google turned up over 5 million entries). His own modest website www.eddiebo.com is a cool place to visit, but to get a brief overview of how this musical genius is viewed by funkjunkies and record collectors worldwide (and click on the groovy, full color icon/reproductions of the many, many funky labels Eddie has worked with), here is a good place to start: soulgeneration.
Don't miss this show. I repeat, DON"T MISS THIS SHOW! Besides the obvious reasons for being there, it is also the 10th anniversary celebration of Fog City Records, who as you know by now is the San Francisco based boutique label that released debut recordings by Galactic, Stanton Moore, Garage A Trois, MOFRO, Robert Walter, Tim Bluhm, Ettiene de Rocher and some guy from Shreveport-by-way-of-Austin named Papa Mali. Let's pack this show, people... and show the legendary Eddie Bo that his beloved city is still home and host to the hippest audience alive. Tickets are ONLY TEN BUCKS!!! Buy 'em in advance here.
Friday 5/5, still floating from the night before, I am honored to be part of an all-star revue at Howlin Wolf's Bayou Rendevous. This features many musicians that I am lucky enough to call my friends and is for a good cause. My set is scheduled for 10:30pm.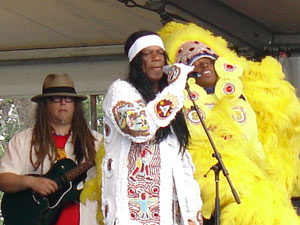 Saturday 5/6 at The Blue Nile on Frenchman St., Papa Mali's 2nd Annual Stoned Soul Picnic falls on my birthday this year and is sure to be a great night of music and fun featuring: (from last year's SSP lineup) Henry Butler, Big Chief Monk Boudreaux, Kirk Joseph and The Papa Mali Trio.

Also added to this year's lineup: Soul Rebels (kickin' it off around 11pm) and singer/songwriter Victoria Williams, who I grew up with in Shreveport and has resided for years with her dogs in the desert outside of Joshua Tree. I have known her since we were both youngsters, and, like Henry, Kirk and Monk she is a guest on my upcoming Fog City release, due later this year. Just a few people who have covered her songs and/or sung her praises over the years: Neil Young, Lou Reed, R.E.M., Pearl Jam, Lucinda Williams (no relation). Need I say more? We gonna go all night or until everybody falls out, whichever comes first...that's just the way we roll on Frenchman St. Tickets available soon online and at the door. Also more artists TBA...Check this site for details.
OK, it's Sunday...whew! That's enough activity for one Jazzfest...besides, I gotsta get back out to the fairgrounds and get some relaxation medication for my funked-up, fried and frazzled braincell. The prescribed remedy? Community coffee, a fried oyster po-boy and jambalaya with lotsa Crystal hot sauce, a mango freeze...and an hour in the Gospel Tent. Hallelujah, people! I think it's gonna be alright.
"All the love that a lowdown blues busta can musta"...
Papa
Links