Music Link Productions Produces New DVD Titles by Allman Brothers, Widespread Panic, Government Mule
Lately, Music Link Productions has become the production company of choice for the cream of the crop of jam bands that rely on live performance, live recordings, and word of mouth from their huge dedicated followings to achieve It is only proper that they should elect to develop dvd titles that reflect their concert experience, and producer/director Mike Drumm has repeatedly answered the call. . Most recently Mike and his company, Music Link Productions, have been responsible for overseeing the production for dvd titles from Widespread Panic, Government Mule, and the Allman Brothers. They've also recently completed dvd titles by a number of Texas based artists, including Reverend Horton Heat, David Allen Coe, and Billy Bob Thornton.
During the past couple of years, the Music Link team has produced several high profile longform DVD releases, as well as nationally aired television specials that have aired on MTV, M2, Direct TV, Music Choice, and PBS, including recent concert shoots with artists as diverse as Rob Zombie, Linkin Park, Papa Roach, Jewel, David Gray, Nelly Furtado, Brandy, Ben Harper, Gomez, Ani DiFranco, …and the list goes on
The Allman Brothers shoot, "Freakin at the Beacon," was a monster, a fourteen-camera production which captured two nights of the Allman's 13-date stand week at the Beacon Theatre in New York City. The dvd will be released in supprt of the band's new album, "Hittin' The Note" on Sanctuary Music (which has previously released dvd titles of Bad Company, Queensryche, and others produced by Music Link). The band, which now features the double guitar attack of Warren Haynes and Derek Trucks is in as fine a form as they have been in years. According to Greg Allman, " It'll probably cover just about our whole repertoire, but we're gonna try to cut us the best DVD we can."
The Widespread Panic show was recorded at the beautiful outdoor venue, the Backyard in Austin, TX, July 20, 2002. Special guests include George McConnell (guitar), Randall Bramblett (sax), Cody Dickinson (percussion), and Luther Dickinson (guitar). A special 2nd Disc features a behind-the-scenes collage, movie, band interview, crew intros, photo gallery, and other nice special features. . A fantastic amount of engaging and intimate footage was recorded, so much so that the planned DVD quickly became a double disc set. Live highlights from this forthcoming Sanctuary Records Group release comprise the hour long DirecTV version of the show.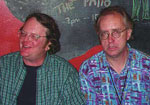 The Government Mule shoot took place at the Sanger Theatre in New Orleans during the second weekend of Jazzfest. This nearly 6-hour spectacle included guest performances by dozens of musical friends with an emphasis on Bay Area bass players (Jason Newstead, Phil Lesh, Jack Casady, Les Claypool, etc.). According to Mike, this was one of the greatest crews and most enjoyable musical experiences in which he has had the pleasure to be involved. Look for the dvd , "The Deepest End" to be released on ATO Records later this year.
Music Link Productions is a Denver-based full service video production house , which primarily serves the entertainment industry. Over the course of the last twenty years, the company, and its owner-operator, Mike Drumm have established itself as one of the industry's leading producers of concert videos, having produced longform videos for purpose of home video release, cable specials, pay per view, webcasts, and most recently in the area of dvd production.
Music Link's dvd production services are comprehensive; they are capable of designing, shooting, editing, and authoring a completed dvd efficiently, and in most instances far more economically than their larger and more cumbersome competition based mostly in L.A., N.Y., and other major entertainment markets. The fact that they are a relatively small operation, and that Mike Drumm acts as both director and producer of their productions keeps things streamlined and well managed. Being based in Denver, while unique, has not been a problem; in the past few years, the company has produced videos in SanFrancisco, L.A., New York, Chicago, Boston, Austin, Cleveland, and London. They have developed excellent relations with video and audio companies throughout the country, and are ready and willing to go wherever a tour or event requires.
"San Francisco has become somewhat of a home away from home", says Mike Drumm, "due largely to it being home to some of the country's best music venues such as the Fillmore and the Greek Theatre, and a place that is far more likely to find an artist giving their best performances". "It also helps that our attorney, Barry Simons, is based there, and is able to assist us in innumerable ways" (picking them up at the airport, and running for coffee).
Music Link's background as the home of an hour-long Denver based television show since 1987, has given them the opportunity to record concert and in-studio performances, interviews, and guest host segments with hundreds of artists through the years. The relationships formed have been invaluable, and the experience of working with so many diverse artists have prepared Mike and his team for the work that would soon dominate their business, including the recent emphasis on the dvd format.
"Our first DVD was with the Indigo Girls, for Epic Records. We worked closely with the band, label, and management to produce a concert video, with interviews and b-roll footage that really helped establish our direction as a full service company that produces dvds from start to finish."